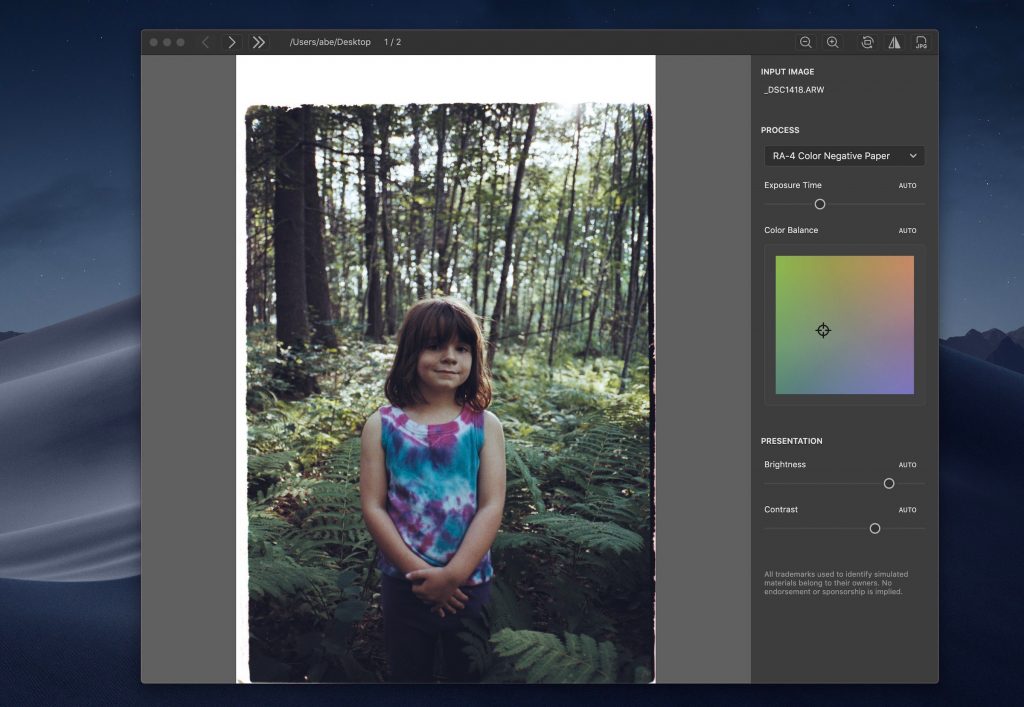 For the past few years, we've been working on software called FilmLab for converting film negatives to positives. FilmLab uses a brand-new image processing engine written from scratch with the goal of giving photographers the same kind of creative control and analog-looking results they'd get in the darkroom.
This desktop version of FilmLab isn't finished yet, but we're releasing early preview builds for people to try it out. Please take it for a spin and let us know what you think!
Current release: 0.4.0. Expires March 1.
Current known issues and bugs
May occasionally stop working or fail to load an image. If that happens, quit FilmLab and restart.
May run slow on some machines
Edit metadata isn't currently saved, so you have to re-edit every time you open an image
Files are saved at 1/2 resolution instead of full resolution
The color balance control is finicky and can be hard to set precisely
The range of exposure available for black and white images is too dark
Paper simulations other than the defaults are currently disabled
Most functions don't yet have keyboard shortcuts
After adjusting contrast, you may see some artifacts in saved JPGs.
How to use FilmLab
Scan some film. FilmLab is designed to work with scene-referred raw images, which haven't had their contrast or saturation adjusted to look good on screen. If you don't have any of your own files but still want to take FilmLab for a spin, you can download some samples here.
Drag a folder full of images, or single file, into FilmLab (or use File > Open…)
Edit your image until you're happy with the result (or if you're not happy with the result, send us an email at hello@developandfix.com and tell us why!)
Hit the JPG button to save an output file.
Use the arrow buttons (< and > ) to move to the previous/next image in the current folder, or use the >> button to watch the current folder and load on the most recent image. This is useful when using a tethered camera.